Introduction
I have been using Zend Studio For Eclipse for over a year
now and although I started using it around version 5.5,
which was rocky to say the least, I am currently using
version 6.1.2. and testing 7.0 Beta–which seems rather
promising with its error reporting even extending to Zend
Server, should you have that installed as a localhost.
Throughout the past year I have become rather attached to
"my Zend" and I can honestly say that after trying another
(Free) Eclipse based IDE I found myself gravitating back to
"my Zend" faster than the "Other One" could uninstall
itself.
Zend has a nice, clean interface. I have it customized to
suit my needs. It does more than I ask of it. That's more
than I can say for most of the software installed on my
laptop. While I do begrudge having to fork out close to $400
for it, I think it is worth it at the end of the day. After
all, mine puts in a 20 hour day, 7 day work week without
complaining or crashing. Respect.
All in all though, I think there are things that Zend could
do better, but there's a whole lot they did quite well. Lets
have a closer look at the details.
Zend is one of the few products that is a pleasure to
install. Run the Anywhere Installer and Bob's your uncle.
Something has to be said about the startup time though. I
initially thought it was my RAM that was impeding it. I
upgraded by 3GB and still found that it could take as much
as a full minute to get running. But once it is up and
running it is pretty stable. However, do not try to kid
yourself into running this baby on any machine having less
than 1GB RAM. I tried. I failed.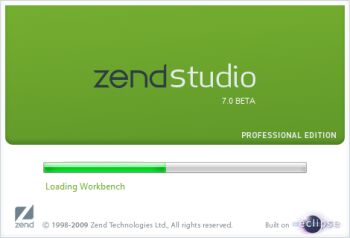 Click here for larger image

Zend Studio 7 Starting Up
In the beginning I was completely unimpressed with Zend
Studio. But you have to know that this was still Zend 5.5
and I was not fully aware of what it could do. It really has
taken me a year to start to harness the full potential of
"my Zend", but then again I spend more time working with it
than playing with it, and most of what I have found out, I
found out by accident. Still, the features are pretty cool,
even if you only see it as an expensive version of notepad
with colors.
Related Results via Envato Market
Related Content